ENGINEERED & VIRTUALLY
DESIGNED LIFTING DEVICES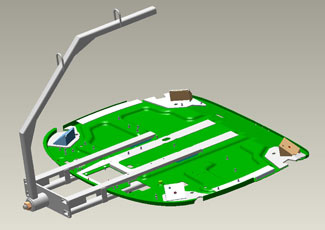 LAMCO has earned the reputation of being a leader in custom engineered lifting devices. With over 40 years of experience in field applications and in-house manufacturing, we have created thousands of devices ranging from paint line hooks rated at 10 lbs. to lift beams rated at 50 Tons. Our Engineer and Design Team collaborate with you to develop a safe, ergonomic and effective lift device.
Pro Engineer Design & Capabilities
LAMCO has a team of Designers on staff that are proficient in Pro Engineer. We are able to import customer models and design standard and custom lifting devices in a 3D virtual space. We collaborate closely with our customers to provide a superior solution and often utilize web-meetings to share ideas in pursuit of that solution.
LAMCO also supplies coil and sheet handling equipment that is custom sized to your applications.
Fab Shop and process
LAMCO has developed effective processes to solve your complex lifting needs. LAMCO's Fabrication department is comprised of a diverse team that has over 100 years of manufacturing experience. LAMCO has assembled a team of highly trained Tool & Die makers, Millwrights, Welders, and Custom Fabricators. Two of the main elements of our Fabrication work are attention to detail and a focus on quality. LAMCO has the right team in place to fabricate all of your custom lifting devices.
Consultation
LAMCO provides on-site application reviews at no additional charge. LAMCO employs a field staff of highly trained experts in our industry of Lifting and Rigging. These Field-based experts are available to aid you in developing an efficient solution that safely meets your needs.